This article is about The Federal Republics of Mista and Dominika.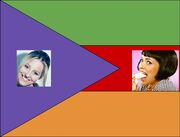 The Federal Republics of Mista and Dominika

Capital (and largest city)

Domista City

Population:

2,000

Language:

Slovakian

Other Recognised Languages

English and Menglish (Only spoken by High Priests)

Government:

Constitutional Theological Undemocratic Republic

Country Head:

Our Lady God Mista

Government Leader

Dominika Mirgova

GDP:

$110,000,000

Per Capita:

$55,000

Currency:

The Momik
The Federal Republics of Mista and Dominika
Edit
The The Federal Republics of Mista and Dominika is a Theological state. The nation is renown for the high stability of the Government and the strong economy. Most of the people are of Slovakian and Scottish decent who travelled great distances for the promised land known as "The Land of The Golden Mista CD".
The The Federal Republics of Mista and Dominika is a young nation created only twenty years ago by the misterious force of mista and her violin of emotions. Mista played her violin so the people who were worthy enough to live in the promised land could hear it and follow the echanting melody of the hymn "Show me". The people who were close enough to the promised land said that they could see a golden beam of light thatt marked the birth place of Dominika Mirgova the holy daughter of Mista and she was to guide the people of the land to a new age of prosperity.
A few months later the federation was born and so was the Order of Mista was born. The temple of mista was built around the place where the beam of light hit the ground and only the high priests of Mista can visit this site as it is the entrance to mista's heavenly music studio where you can hear the angelic sounds of her voice.
The culture of the federation is mostly based around the teachings and guidence of the religion the people follow. The people are encourgaed to be creative within their country and the book of mista says that "creativity is the thing that helps us progress and survive through the ages". This has resulted in some strange and some interesting music and theatre productions. The celestial flower that grows on the hills around the country and the pollen is said to unlock parts of the brain that makes the creative part of the brain more active than the other parts of the brain. The flower is said to be a gift from the great mista and have a celestial flower day with a massive concert every year.
The media in the federation consists of one government owned TV channel called Celestial TV (CTV) and one privately owned TV channel called OMG TV and is popular with teenagers. The one radio station is an extention of Celestial TV.
Lyrical Song Contest
Edit
Edition
Artist
Song
Grand Final
Points
Semi Final
Points
10
Mista
Go Wild
Failed to qualify
15
66
11
Dominika Mirgova
Hore
11
107
06
64
12
Kristína
Ta Ne
14
103
06
117
13
Mária Čírová
Bez obáv
09
169
06
92
14
Donatan & Cleo
Sztorm
TBA
TBA
TBA
TBA