This article is about The Sultanate Al-Arabiyyah.
Sultanate Al-Arabiyyah

Capital

Alcastinopel

Official language

Arabic, English, Russian

Ethnic groups

80% Al-Arabiyyans, 20% Others

Type of Government

Sultanate

Sultan

Alexander Hille

Vice-Sultan

Haife Wehbe

Area

56001450 Km2 (2014)

Population

683.819.358 (2014)

Demonym

Al-Arabiyyans

Currency

Arabian Dollar(ARD)
Al-Arabiyyah is bordered in North-west to a country. In the South-west to South Kordom. In the South it borders to Marhalika and Japonicana. On the east the country is boarderd by a sea and in this sea there are the islands of Rainbow Islands.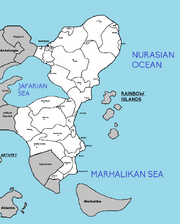 The Sultanate has 28 States, 3 Federal Cities & 1 Autonomous state.
Federal Cities:
Alcastinopel - Capital: Alcastinopel.
Al-Caier - Capital: Al-Caier.
Almara - Capital: Alamara (New to build city in the dessert of Almer)
States:
Canistan - Capital: Can.
Tamilistan - Capital: Tamal.
Armenik - Capital: Ar.
Arialik - Capital: Arial.
Ermelistan - Capital: Armei.
Lafi - Capital: Laf.
Almistan - Capital: Alm.
Skakira - Capital: Shakir.
Akira - Capital: Akir.
Irkutsistan - Capital: Ir.
Jafaristan - Capital: Al-Jafar.
Doja - Capital: Doja.
Kazakistan - Capital: Astan.
Halilastan - Capital: Halo.
Tripolitana - Capital: Tripol.
Amirakistan - Capital: Amir.
Dessert - Capital: Woestania.
Wehbe - Capital: Haifa.
Almer - Capital: Almera.
Woestin - Capital: Dessertia
Al - Capital: Al.
Vizistan - Capital: Viz.
Az - Capital: Azmir.
Ran - Capital: Alrehan.
Egit - Capital: Alexandrië.
Leban - Capital: Beial.
Alarastan - Capital: Alaran.
Arabistan - Capital: Arabia

Autonomous State:
Saba - Capital: Hafdal Ahlam.
Al-Arabiyyah is best known for their oil rich location. They produce a lot oil to the world.
Transport
Edit
In the sultanate are many ways of transport. Harbours, Highways, Airports, Metro's & Railroad.
Airports
Edit
International Airports:
National Airports:
Harbours
Edit
International Harbours There are two very important harbours in the Sultanate.
Alcastinopel (ACP)
Al-Caier (ACR)
Hafdal Ahlam (HAM)
Lyrical Song Contest
Edit
They first debuted in the 10th edition of the contest. 
Table key
    

Winner

    

Second place

    

Third place

    

Last place

    

Automatically qualified to the final

    

Did not qualify for the final