This article is about the Rainbow Islands in the Lyrical World.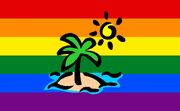 Rainbow Islands

Capital

Arcenciel

Official languages

English, German and French

Government

Unitary parliamentary democracy

Area

1291 km2

Population

35 Million (2015)

National holiday

24 June

Broadcaster

National Rainbow Television (NRT)

Best placing

1st (LYSC #14)

Worst placing

SF 14th (LYSC #11)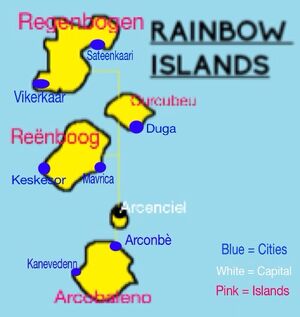 Languages
Edit
The national languages are English, German and French. However, about 50% of the citizens are able to speak Arabian, while about 25% are able to speak Italian, Spanish and Hindu. Most of the people are Atheists, but also many Christians live there.
The National Anthem is "Over The Rainbow".
The people on the

Rainbow Islands are very tolerant. Less than 20 people on all islands are racist or homophobic. At the same time, there are 3 big ethnic groups, while 6% are from the rest of the world. Most of the citizens support gay people.
Hockey
Hockey is the national sport of

Rainbow Islands. They have a national league and they have one of the best hockey teams in the world. Hockey is one of the biggest connections to the

Fanta Islands, as it is also the national sport of them.
Football
Football is very popular, too. The biggest and most successful club is the FC Arcenciel, the club of the capital. They won the season of 2014 and 2013 and got Top 5 places every year since 2007.
In spring 2015, they hosted the CFA World Cup Spring 2015.
Lyrical Song Contest
Edit