This article is about The Depressive State in online song contests.
The Depressive State



Capital

Valiliom

Official language

Depressive

Ethnic groups

90% Depressive, 3% Whitelandic, 3% Keyholelandian, 1% Dasmian

Type of Government

Republic

President

Frederik Ndoci

Population

8 million (2014)

Currency

Depressive peso (DPP)
Information
Edit
The Depressive State is a very old and glorious nation, which capital is Valiliom.
Eight millions citizens live in this beautiful grey country.
Every 5 years, Depressives (demonym) vote for a president.
The current leader of the country is Frederik Ndoci.
The official language is Depressive, but there are also Whitelandic, Dasmian and Keyholelandian minorities.
Depressive State is in a good relationships with the other countries of the world, except Tommanija after a decision from the country to unrecognise Dasmia, Antalorgia and Trolland & Beatum. There was a long conflict between Depressive State and The Federal Republics of Mista and Dominika, but after the civil war, where they encouraged the Pohunskian riot and when they took over the country, a Depressive ambassy was built in Noroyska City.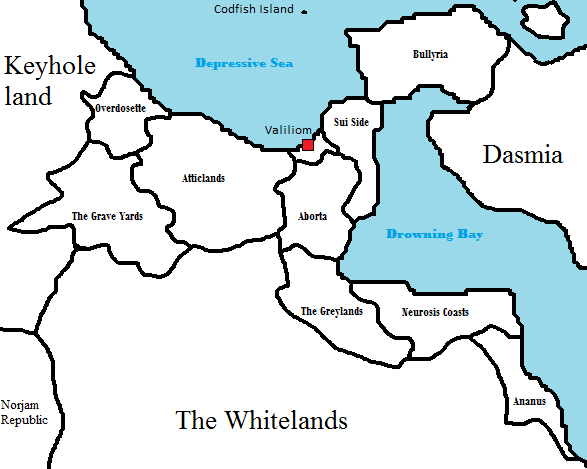 Valiliom is the political, economical and diplomatic center of the country. It's the capital city and the biggest city, with 1,5 million inhabitants.

Overdosette is full of coal mines, which Depressive State exports. Coal factories are implanted in this region and produce all the energy necessary to Depressives' needs. However, after claims from the ecological party, wind farms are increasing.

The Grave Yards are dedicated to cattle, in sufficient quantities not to import.

The Atticlands is an agricultural region : wheat and vegetable crops allow the country to be self-sufficient.

Aborta is the most populated region of the country. It is the head office of the majority of the country's societies.

Sui Side is full of fishing port. The Depressive State is lucky enough to have a huge EEZ so they even export fishes and seafood.

Bullyria, like Aborta is a residential region, the second most populated region of the country. Stool, rope and bullet factories, which Depressive State exports, are set there.

The Greylands is a former Whitelandic region. Not very developped, two thirds of the region is a protected national park. Only scientist are allowed to stay there.

Ananus is a turistical coast full of seaside resort. The inner lands produce pineapples thanks to a warm microclimate.

Neurosis Coasts is full of seaside resort, like Ananus. It is also here that is produced a world-renomed wine : Côtes de Névrose.

Codfish Islands is a small rock in the sea annexed in the last century to have a bigger EEZ. Only 300 people live there, many of them are scientists.
Lyrical Song Contest
Edit
Table key
    

Won

    

Second place

    

Third place

    

Last place

    

Jury Wildcard

    

Public Wildcard

    

Qualified to the final

    

Did not qualify for the final